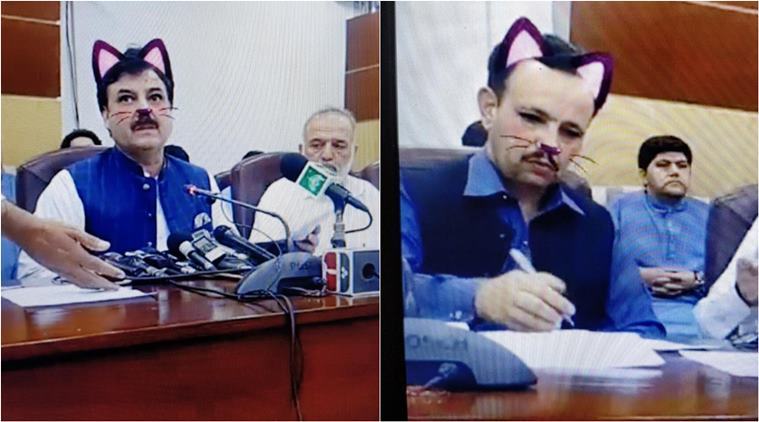 Le ministre de l'Information d'une province pakistanaise tenait vendredi 14 juin une conférence de presse, laquelle était retransmise en live via « Facebook live ». Problème, le filtre qui ajoute de façon automatique des moustaches et des oreilles de chat sur les visages était activé… Cela a bien évidement suscité d'hilarité sur  les réseaux sociaux.
« Le ministre s'est transformé en chat », a commenté un internaute. Un autre, plus sobrement, écrivait « miaou, miaou, miaou ».
You can't beat this! Khyber Pakhtunkhwa govt's live presser on Facebook with cat filters.. ? pic.twitter.com/xPRBC2CH6y

— Naila Inayat नायला इनायत (@nailainayat) 14 juin 2019
According to KP government's social media team we now have a cat in the cabinet #Filter pic.twitter.com/LNl7zwOfLU

— Mansoor Ali Khan (@_Mansoor_Ali) 14 juin 2019
« Je n'étais pas le seul. Deux responsables assis à côté de moi ont aussi été touchés par le filtre chat », a-t-il ajouté d'un ton léger, appelant à « ne pas tout prendre au sérieux ».
Bien que des internautes aient pointé l'incohérence via les commentaires de la vidéo live, le « filtre chat » est resté activé durant toute la conférence de presse.
Dans un communiqué, l'équipe en charge des réseaux sociaux pour le PTI a qualifié l'incident d'« erreur humaine ». « Toutes les actions nécessaires ont été prises pour éviter un tel incident dans le futur », ont-ils ajouté.